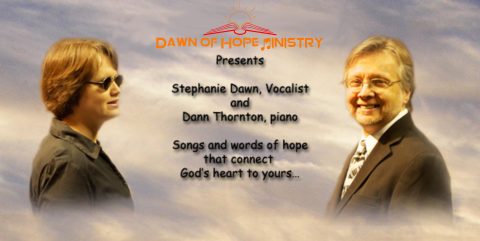 Stephanie Dawn has been presenting concerts since she was nine years old. Her musical accomplishments include winner of the Young Soloist Award sponsored by Panasonic and Very Special Arts, which resulted in performances at the Kennedy Center, and female category winner in the National New Artist Search. Also, Embassy Music of Nashville awarded Stephanie Dawn the Grand Prize in their Ultimate Talent Search.

Dawn of Hope Ministry's concerts combine Stephanie's powerful testimony, engaging voice, and exuberant personality into a captivating and uplifting program that draws the listener closer to God. Her enthusiastic love for Jesus lifts her above the many challenges she faces in addition to her blindness. This love is inspiring to others facing challenges in their own lives.

Stephanie is accompanied by pianist Dann Thornton. They share a musical connection that creates an attitude of praise to our God and brings to the listener a fresh revelation of God's Word. It is their purpose to bring honor to our Lord Jesus Christ!

Dawn of Hope Ministry presented an English and Spanish concert at our church on May 30, 2015.  They returned for another concert on August 12, 2017.  They presented concerts of gospel music and testimony featuring Singer/Speaker Stephanie Dawn and Pianist/Arranger Dann Thornton.  Please view or listen to these concerts below!
 
---
If you have trouble playing media on any page, you can click on the "Podcast Feed" link below to gain access to our audio and video files.

You may also Click Here to get help opening any of the media on this page.
---