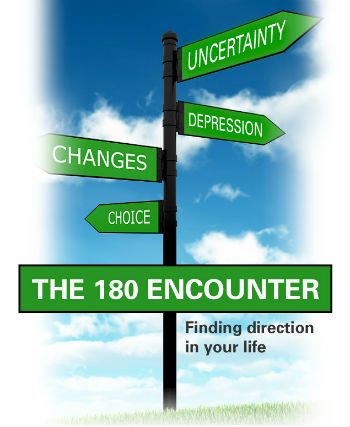 ave you lost your way?  Have you been searching in all the wrong places to fill that void in your life?  The choices that we make in our life can bring good memories filled with joy, peace, and even prosperity.  But at times when we stray from the "narrow way," our choices can leave deep scars that hurt and carry guilt and pain for years to come.
You are not alone!  We all walk through a life with ups, downs, and bends in the road.  People throughout history have at times wandered.  However, when they gave Jesus Christ a chance to be king in their lives, they "did a 180."
If you are not satisfied with your life, let us help!  Your friends at the Seventh-day Adventist Church hosted a series presented by Pastor Esequias Perea Jr. entitled "The 180 Encounter."  This series will bring healing to your soul as you hear God's word preached clearly, with love, acceptance, and God's transforming power!
You will learn what happened to people when they had their "180 Encounter" with Jesus and what could happen if you give Jesus the chance to be King in your life.
Please enjoy the videos below as Pastor Esequias Perea Jr. preaches straight from the Word of God.